Humanity's impact on the environment cannot be understated — we've burnt down forests, built dams around rivers, and clogged up the atmosphere with dangerous chemicals among a list of many other atrocities. In our short-sighted quest to maximize financial returns, we've inadvertently brought on climate change which as it turns out is rapidly turning is threatening our very existence. Our negative influence isn't just limited to our living, we continue to pollute the earth even after death in the form of chemically-treated caskets we're put into. William Warren, a U.K.–based designer understood all of this and decided to combat the problem with a unique creation of his own called the "Shelves for Life"—a bookshelf that lasts a lifetime and can also be assembled into a coffin when the owner passes away.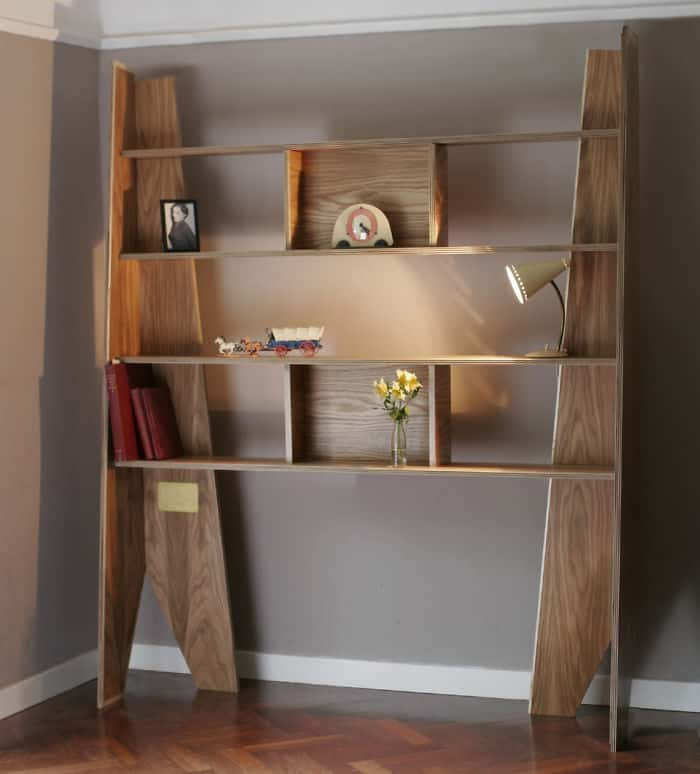 "These shelves are designed to last you a lifetime," writes Warren. "The wood will color, the surfaces will mark and stain, and over the years and the furniture will become a part of you. When you die, the shelves can be taken apart and reassembled as a coffin. The brass plate under the bottom shelf, that tells the story about this transformation, is then flipped over and you're dates inscribed on it." Recently Bored Panda got in touch with the eco-warrior to pick his brains over this interesting product. "It's not everyone who sees the charm but some do," Warren said, talking about how people were initially taken aback by this product. "People are very pleased when they realize the designs can be downloaded for free." Even companies were reluctant to entertain the idea of cataloging his bookshelf because of the morbid vibe it came with. "I offered the design to a Japanese company when I first made it but they really didn't like the reminder of death. Since then, some squeal and some smile."
When asked about his reaction to people's queasiness, he said "we are all going to die" and there's no reason to ignore or forget it. "If you don't think about it in advance, you'll be buried or burnt in a chipboard box with paper that looks like wood and plastic handles that look like brass," he opined. "Your grieving family will pay £400 for this £40 piece of rubbish because nobody argues with an undertaker. Better to have something you've made, something solid and something that has lived with you in life and has the stains and scars to prove it." The eco-friendly shelves were initially launched during the London Design Festival in 2005 held at the British Library and have made considerable news across the internet fifteen years on.
According to his website, Warren runs a furniture and product design consultancy, which works closely with manufacturers, designers, and retailers. He is currently a Senior Lecturer at London Metropolitan University and also lectures at three other universities and colleges across the U.K. His approach to design involves questioning the utility and improving the emotional experience of the user. The products he creates ask the viewer to think about their belongings, in a humorous way and involves a conceptual twist. He even encourages people to write to him with their measurements so that he could provide them with a custom build plan.
"This is a fabulous idea, Mr. Warren," an admirer named Janie Darcy wrote. "With a mind towards natural burial would so love to implement it with your plans and build instructions. I'd both like to make things easier for my loved ones when the time comes, and for myself in the meantime," she said. Another user Michelle Parsons wrote how she scoured all over the internet on eco-coffins before stumbling onto his offering. "After having surfed all sorts of eco coffins, these are amazing and with no storage worries for the next however many years," she said.